Description
Features
Assisting safe and reliable scanning
Various document handling for all scanning needs
The fi-7030 handles a variety of business documents so that users can get all scanning work done with a single scanner. Documents of various sizes and thicknesses including plastic and embossed cards can be placed on the chute and scanned altogether at a time. The scanner is also capable of scanning documents larger than A4 using the optional Carrier Sheets, and even documents with lengths exceeding 5 meters.

Comfortable scanning with reliable feeding functions
With brake rollers functioning as the fundamental mechanism to separate each sheet of paper for clean feeding, the scanner's high quality technologies provide reliable paper feeding. The Skew Reducer also helps improve feeding performance and prevents re-scanning that can result from document edges getting cut off.
Skew Reducer
Independent separator rollers ensure that a document that is skewed will not affect the alignment of following sheets.

Boosted usability with a compact and user-friendly design
Perfect fit for any environment
The scanner's compact design makes it suitable for placement on small desks such as reception desks or service counters, requiring minimum space so that users can enjoy using free space as needed for their own work. With the driver software compatibility with all major operating systems, Windows, macOS and Linux®, users can use the scanner in various environments and situations, regardless of the operating system in use.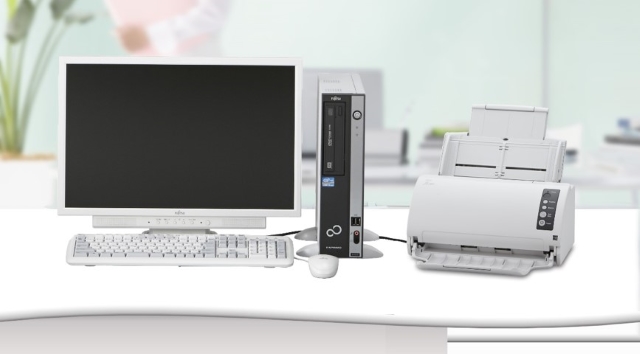 Quick Startup Times
No more waiting with quick startup times of half a second and recovery times of a mere second when resuming from sleep mode. These functionalities help users boost their work efficiency, allowing them to focus on what matters to them without wasting time.
Advanced software for work efficiency
Connect business workflow with PaperStream IP and PaperStream Capture
The PaperStream IP scanner driver, supporting both TWAIN/ISIS, eliminates the need of making fine setting adjustments for OCR processes. It automatically converts images into exceptionally clean images, accelerating OCR even when scanning wrinkled, soiled and patterned documents.
With an intuitive interface, PaperStream Capture allows users to feed information into their organization's workflow through various capture features during batch scanning effectively and efficiently.
Streamline workflow with automatic functions
The software is designed to maximize administrator and user usability. Operation is simple to eliminate time spent on sorting scanned images and boost overall productivity.
Documents divided with barcodes and patchcodes are automatically sorted into appropriate folders with a few quick configuration processes. Automatic sorting allows users to load mixed batches while focusing on other tasks.
Utilize advanced optional capture software – PaperStream Capture Pro
A high-quality, front end scanning software, PaperStream Capture Pro, enhances fi Series scanners' superior scanning abilities with an improved feature set that includes options for high level data extraction and indexing, the import of electronic images, and support for multi-station licensing.